tramnews zh
about this news | index | search
Zürich tram page | Zürich tram links
this page in German
---
17.07.2019: Limmattalbahn and Farbhof update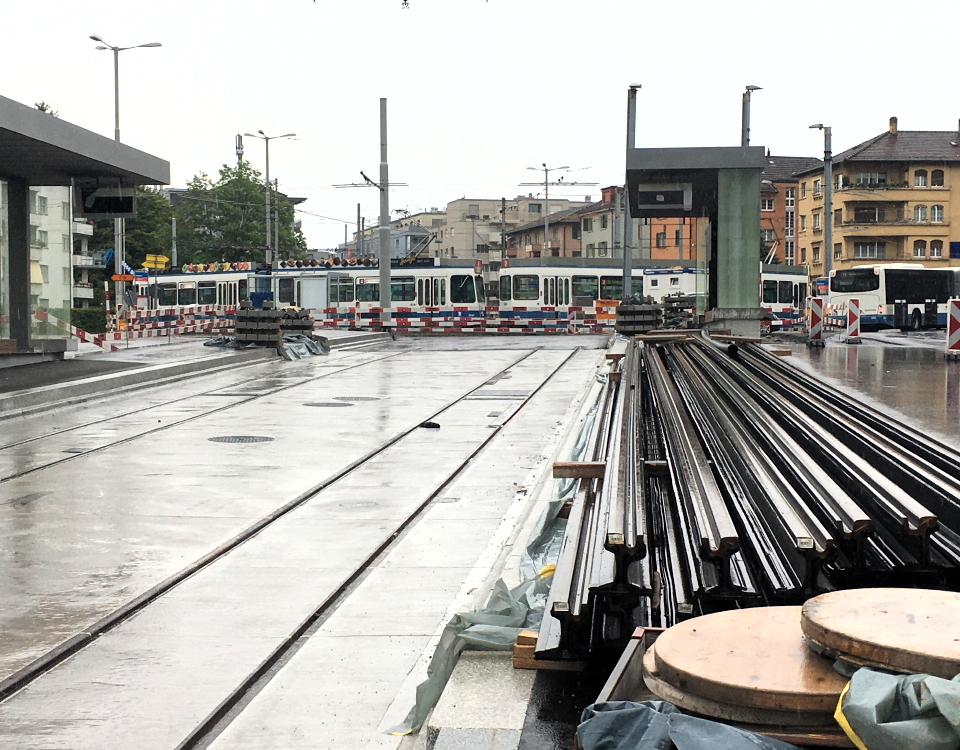 According to a corresponent on the SwissRail ioGroup, the loop at Farbhof was closed at end of traffic on 12th July (Friday night), with tram route 2 now turning at Letzigrund while the Farbhof turning loop is removed and replaced by the track connection to Limmattalbahn.
The extension from Farbhof to Schlieren Geisswied will open to timetable traffic on 2nd September but there will be an opportunity to travel during the opening festival on 31st August which will include the use of museum cars.
The line beyond Letzigrund is being worked by a bus replacement in the interim, but tram movements are not totally suspended as this is the access line to the Altstetten workshops.
---
25.06.2019: Limmattalbahn photos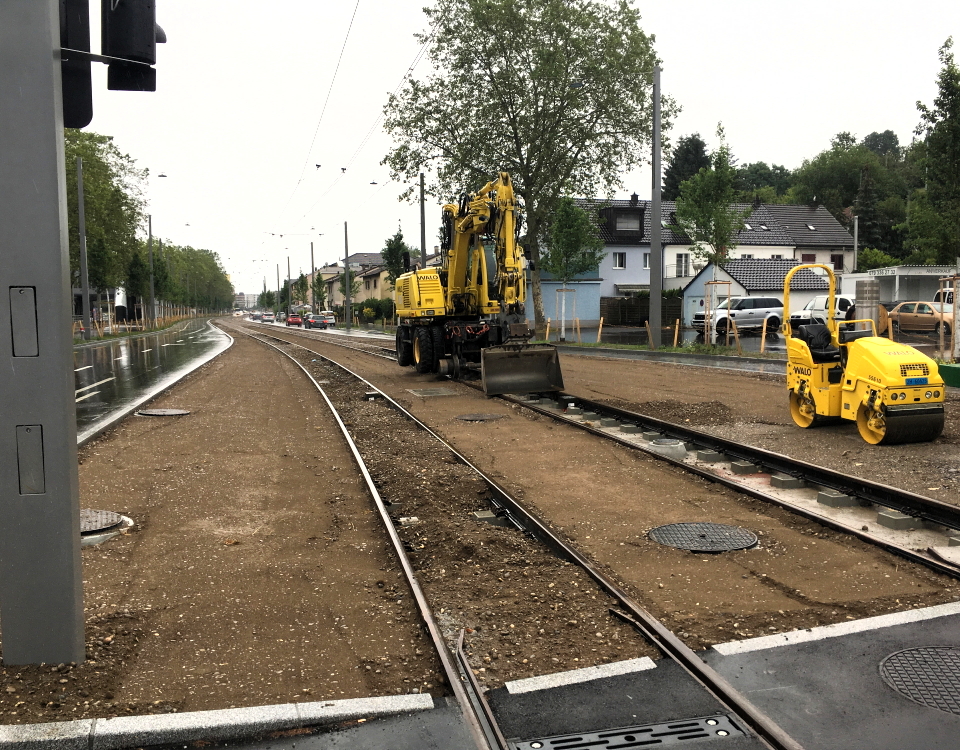 Following up on my recent report on the first phase of Limmattalbahn, here are some pictures of my visit on 9th June (including the soon to vanish turning loop at Farbhof). See pictures here.

---
24.06.2019: New AVA trains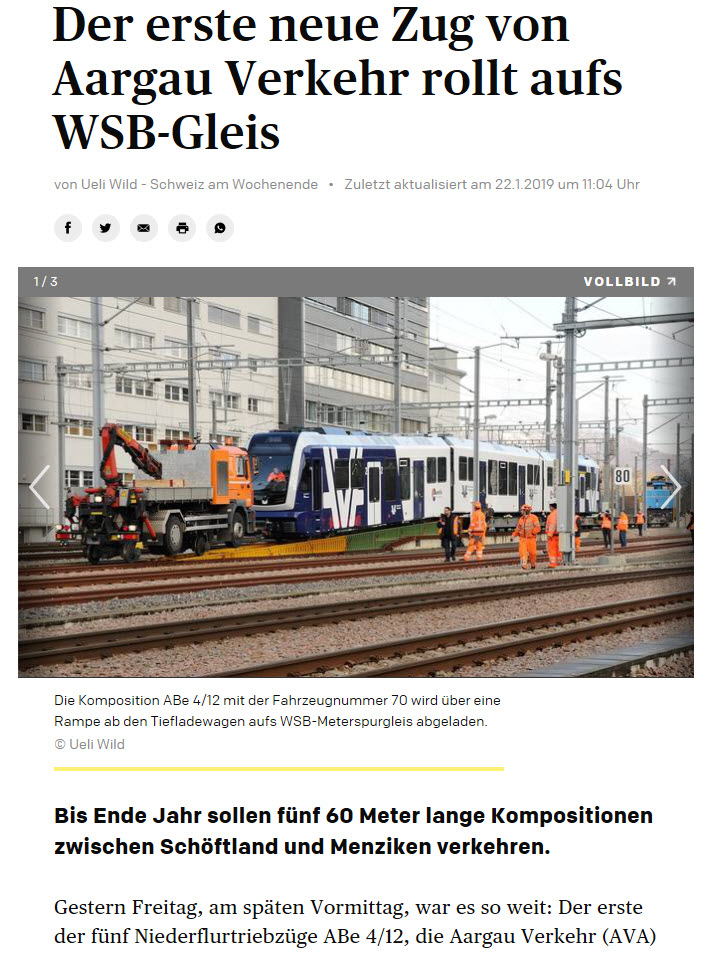 Another one I missed previously: The first of the new Stadler-built trains for the Schöftland to Menziken line of AVA (previously AAR, previously WSB) was delivered in Suhr on 18th January (report in Aargauer Zeitung). This is the first of a batch of five units that will lead to a modernization of this line's fleet and displace the Be 4/4 + ABt sets. The first unit (nr 70) entered service on 22nd May. The delivery on 71 was on 14th March and that of 72 on 16th May.
---
24.06.2019: Photo update — Brienz Rothorn Bahn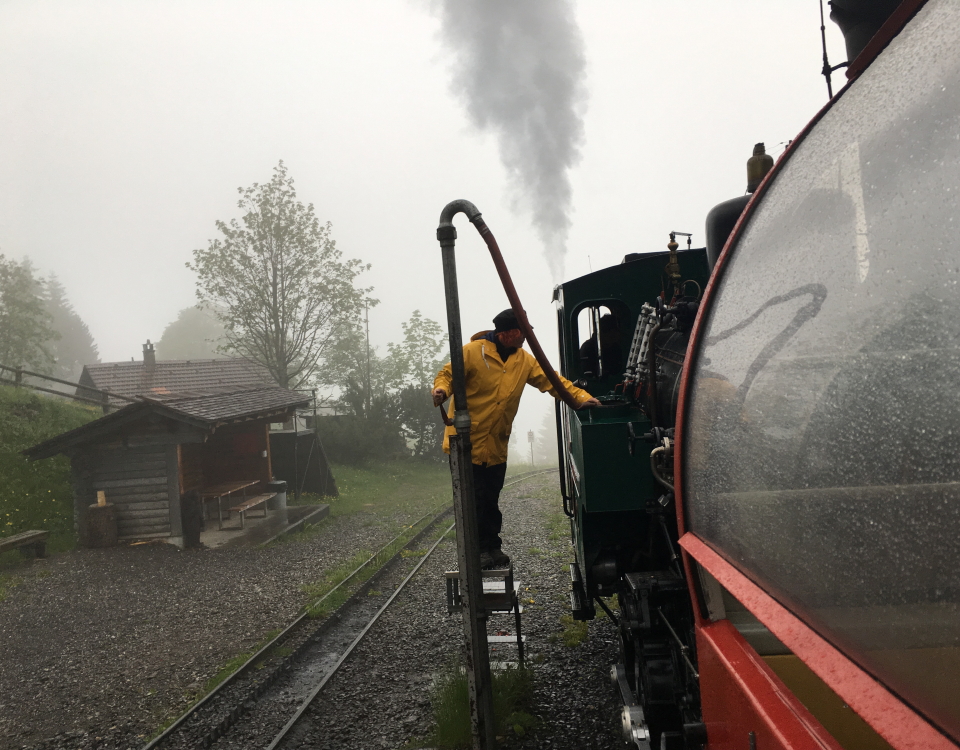 New pictures uploaded of a rainy day on the Brienz Rothorn Bahn as well as heritage coaches seen in Winterthur.

---
19.06.2019: Pyongyang pictures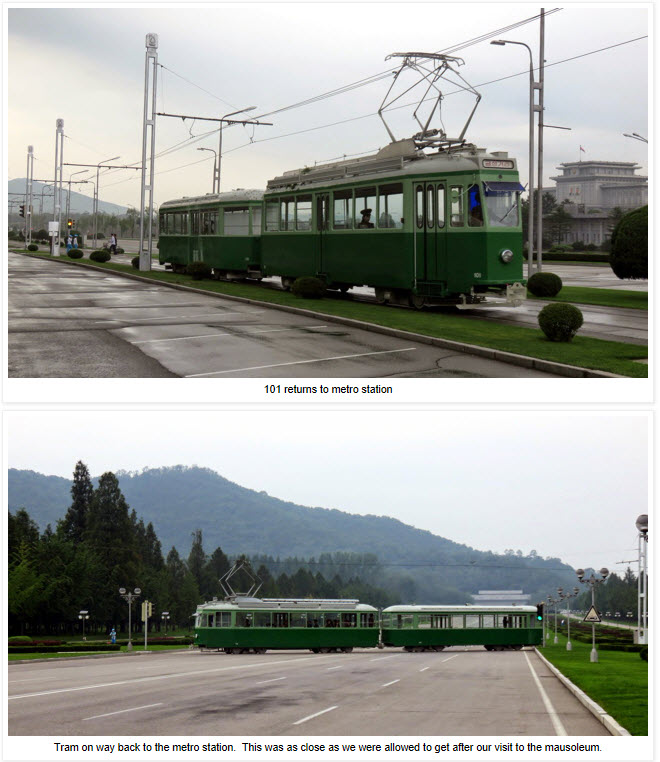 Not quite up to date, but a fascinating internet find. Ex-Zürich Standard Trams in Pyongyang on Richard Lomas' website.

---
18.06.2019: Restore WSB Saloon car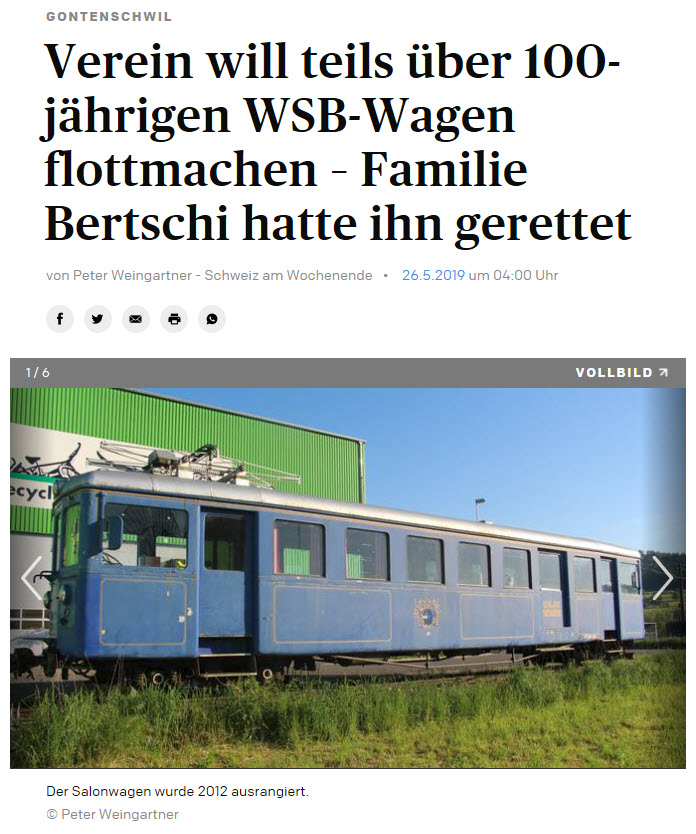 A society has been formed with the goal of salvaging and restoring to working order WSB's saloon car 115. This bogie car was originally built in 1901, underwent several major rebuilds, and was not withdrawn until 1982, after which it became a private hire vehicle and operated in an inauthentic blue livery. In 2012 WSB declared the car surplus and it narrowly avoided scrapping by, surprisingly, being saved by a scrap merchant. It was then placed in the Bertschi scarpyard at Reinach and used as an information booth for visitors. It is a nice touch that the instigator of this idea, Olivia Bertschi, said that her parents had celebrated their marriage apero in this car.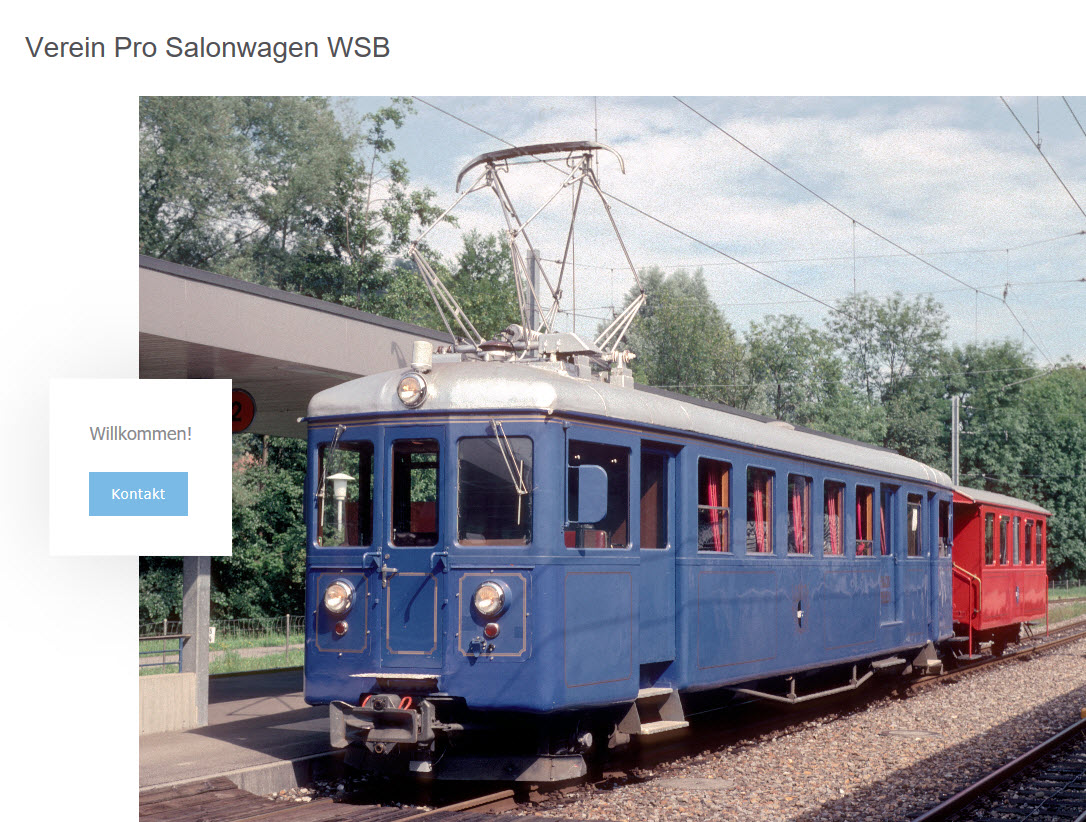 An iniative is now underway to salavge the car and restore it to working order, and a society, Verein Pro Salonwagen WSB has been founded with the specific aim of acheiving this. Their website is still being set up and does not yet have any specifics. The society is appealing for membership and money.

---
18.06.2019: Geissbock tram back in Zürich
Some catching up one news I missed. This newslog announced the return of the Geissbock tram from Lucerne to the Zürich tram museum. The event has been well covered, so here are some links to some of that coverage: Some ... (more)
---
17.06.2019: Limmattalbahn opening
Infrastructure on the first phase of Limmattalbahn (Farbhof to Schlieren) is approaching completion. The line will commence operation on 2nd September as an extension of route 2. Festivities are planned in Schlieren to accompany this. To permit the line to ... (more)
---
17.06.2019: New funicular at Zürich airport
A new short funicular is to be built just outside Zürich airport. The area on the other side of the Glattalbahn stop and elevated roadway is being redeveloped with an office, hotel and convention area called The Circle. Just ... (more)
---
17.06.2019: SZU on rare track
There will be no SZU trains Zürich HB to Selnau from 13.07.2019 to 01.09.2019 (inclusive) due to track work. During this period, some peak trains will be diverted to Wiedikon, creating an opportunity to ride on this otherwise ... (more)
---
07.06.2019: Basel St Louis: Services suspended over antisocial behaviour
The cross-border tram extension of Basel's route 3 opened amidst much fanfare in 2017. Following incidents of antisiocial and threatening behaviour on the French segment of the line, with individuals aggressing both passengers and staff, BVB suspended the evening ... (more)
---
04.06.2019: Peckham cantilever truck number 8
Following up on the previous item on this newslog, concerning Peckham cantilever trucks, the same Facebook source has provided a scan of a number 8 truck (from the same catalogue). This is, I believe, the type that was used ... (more)
---
31.05.2019: Facebook find: Peckham cantilever truck
Interesting find on Facebook, from the 1897 (American) Peckham catalogue, showing "Peckham's 'Standard' Cantilever Extension Truck 6C", and claiming that "Peckham trucks cost 75 per cent less to maintain than any other truck". The design shown appears very similar, ... (more)
---
31.05.2019: SBB considers bringing back night trains
This newslog has reported the slow demise of night train services from Switzerland. SBB officially pulled out of the business in 2009 but foreign railway companies continued to serve Switzerland. The train to Spain was lost in 2012, and ... (more)
---
30.05.2019: Trolleybus pics
Some random photos of trolleybuses (and other stuff) I took today on Wehntalerstrasse near Milchbuck. No specific reason.

---
12.04.2019: Ex-Trogenerbahn trams in Neuchatel
According to reports on the SwissRail io group, the sale of Trogenerbahn 31-35 to Neuchatel fell through in early 2017 as Neuchatel was unable to raise the money. But a fresh agreement was reached later that year. The five ... (more)
---
28.03.2019: Geissbock returns to Zürich
After 37 years in the transport museum in Luzern, 32 is returning to Zürich. This 6-wheeled tram, built in 1939, is celebrating its 80th birthday this year. Together with its long scrapped sister car, 31, it was a protototype ... (more)
---
28.03.2019: Cobra trams in trouble again
A routine control late last year revealed fractures in one of the rods fitted under a Cobra tram to guide the wheels into curves (these radially adjusting wheels are an important feature of the Cobra design). Further investigations involving ... (more)
---
21.02.2019: Mirage back in service soon
According to a correspondent on the SwissRail iO Group, Mirage 1674 is expected to return to service from 25th February (that is, coming Monday). Expected timings will be: On route 8 Monday to Friday only 15:29 Salersteig via Stampfenbachplatz-Sihlquai to Hardturm 16:01 ex ... (more)
---
25.01.2019: VBZ web article on history of Tram Affoltern
With the tram line to Affoltern slowly but surely moving towards the spades in the ground stage, VBZ has published on its website a history of previous attempts to build a tram line to Affoltern, as well as looking ... (more)
---
25.01.2019: Internet find, Altdorf tram
Internet find: this rare film footage of the Altdorf tram.
The Altdorf – Flüelen tram operated from 1906 to 1951. More information, pictures and a map can be found on this page of Eingestellte Bahnen.
---
25.01.2019: 2018 news
News items for 2018 have been moved from the newslog.html main page to the 2018.html page.
---