tramnews zh
about this news | index | search
Zürich tram page | Zürich tram links
this page in German
---
18.11.2019: The Flexity story
A nice summary of the Flexity story, of all that went wrong and that contributed to the ten year procurement saga has been published by NZZ.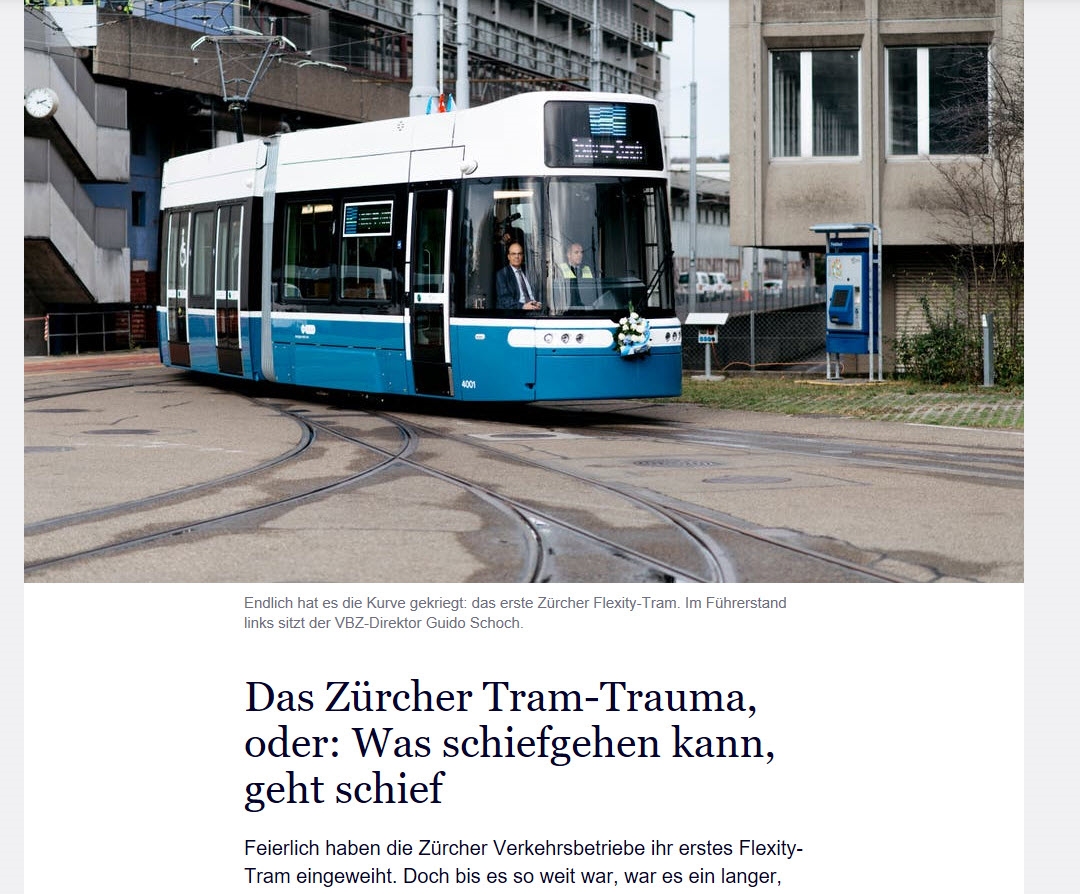 ---
18.11.2019: Second Flexity order to be confirmed next year
A decison on the second Flexity order is expected next summer. A fleet of 140 Flexitys should permit a replacement of the entire Tram 2000 fleet (including the third batch) as well as sufficient vehicles to cover anticipated new lines such as that to Affoltern.
---
18.11.2019: SBB and ÖBB to deepen cooperation on night trains
An article on bahnonline.ch reports that SBB and ÖBB are reacting to the increased popularity of night trains. They will look into added capacity for the Zürich - Berlin / Hamburg train, and also at adding couchettes to the presently sleeping car only Zürich - Prague connection. Daytime services are also being improved, with a sixth connection being added to the Zürich - Munich EC.
According to the article, Zürich is a real night-train hub. No other European city besides Vienna presently sees more night trains.
---
15.11.2019: Second Flexity order?
Delivery has only just begun, but VBZ is already thinking about a second Flexity order. In addition to the 70 trams on order, a further 70 are required. According to VBZ's director, Guido Schoch, the original order includes an option for these further vehicles, but ZVV must also approve the spend.
TOP Online artcle, Stadt Zürich braucht noch mehr Trams
---
15.11.2019: More about Flexity
NZZ has published an interesting article on the new Flexity tram (here). According to this, the front design is inspired by the art-deco tram-stop shelters of Paradeplatz and Bellevue. The seats are made of beechwood, which is considered both more hygienic than moquette and more durable (this was decided following a consultation with the public in 2012). The interior photo makes the tram (in my opinion) appear more austere than the Cobra with less colour, more obvious plastic and a return to strip lighting. The tram is, however, packed with hi-tech goodies. USB connectors will permit passengers to recharge electronic devices. LEDs on the doors and at the ends of the trams will highlight the tram's departure status (green = doors can be opened, red = doors closing, ready to depart). And the trams will have an obstacle detection assistance system (ODAS) to support the driver. Initially this will only issue audible warnings but it could technically also be set up to intervene.
Flexity wil have 91 seats, compared to Cobra's 90. Standee capacity will increase from 130 to 188 (based on 4 standees per square meter). Weight will increase from 39t to 54t, whereas maximum speed is down from 70 to 60km/h. At 43m, the tram is 6m longer than Cobra.
Extensive adjustments and acceptance testing is still required, meaning passenger service is not anticipated before May or June. The second tram will not be delievered until February, and a third in May, after which deliveries should be monthly until all 70 are in Zürich.
NZZ article, Das neue Züri-Tram rollt an – alles, was Sie über das Flexity wissen müssen
---
14.11.2019: Flexity gets welcome in press
Plenty of press coverage of the delivery of the first Zürich Flexity. Much of it using nocturnal pictures of its arrival on a low loader.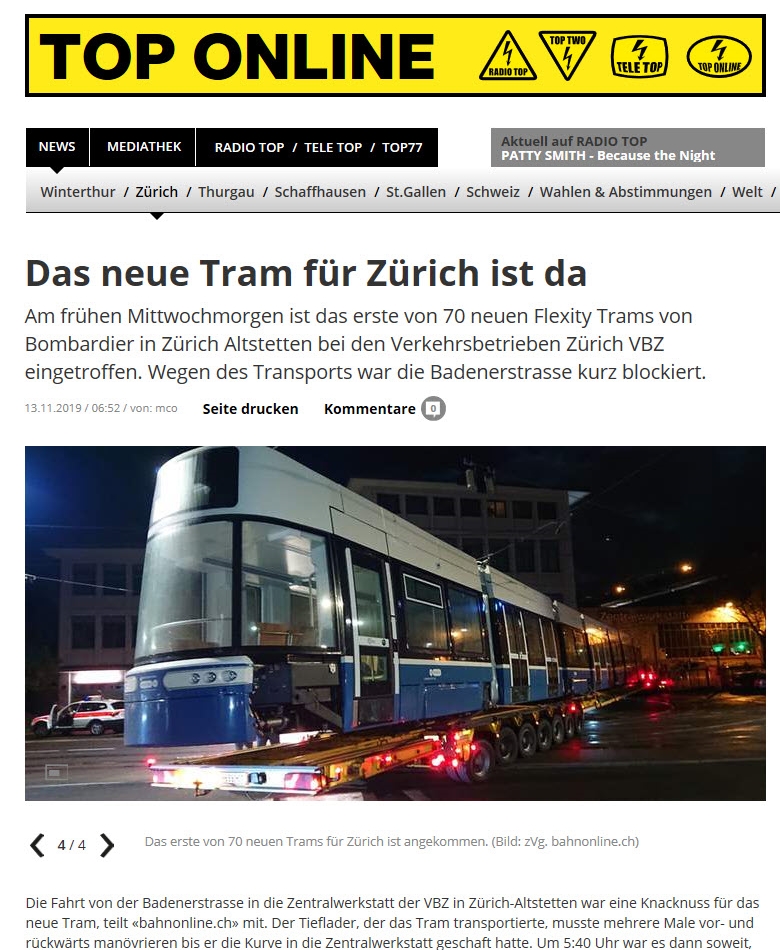 ---
14.11.2019: First Neuchâtel GTW in service
The first (ex Trogenerbahn) GTW is reported to have entered service in Neuchatel yesterday.
---
14.11.2019: More on tram route changes
Further to the previous report on changes to VBZ's tram network that will come into effect on 25th November, bahnonline.ch has a more detailed report. The modifications will reduce the number of trams required to operate the system by 10.
---
13.11.2019: Flexity touches down in Zürich
The first Flexity is finally here. This report from Basler Zeitung shows it being delivered by way of Hardbrücke in the early hours of this morning and finally being rolled onto Zürich tracks in the yard of the Altstetten workshops at 08:00.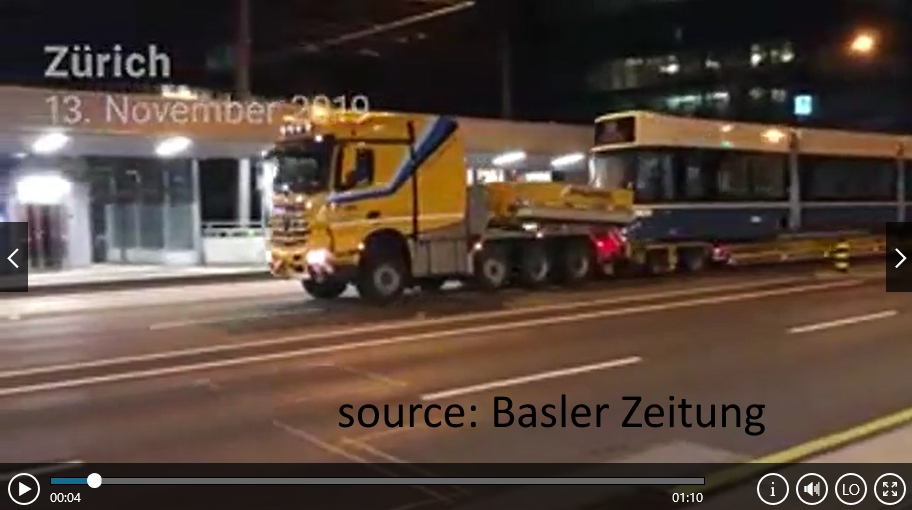 ---
12.11.2019: Flexity spotted in Weil
A Flexity in Weil is probably no special occurence these days. But this one is a Zürich Flexity and it's on the back of a low loader lorry. Spotted today by a member of bahnforum.ch.
---
12.11.2019: Retrobus collection under threat
Retrobus is a Swiss trolleybus and bus preservation group. Besides having collected numerous vehicles from different fleets, they also have in their care some vintage vehicles previously preserved privately or disposed from the sadly dwindling heritage fleets of the ... (more)
---
12.11.2019: Nightjet network expands
This newslog has in the past reported about the demise of night trains. The remaining night trains services from Switzerland are now for the most part consolidated in the hands of Austrian Railways (ÖBB) and marketed under the brand ... (more)
---
11.11.2019: Photo update Alicante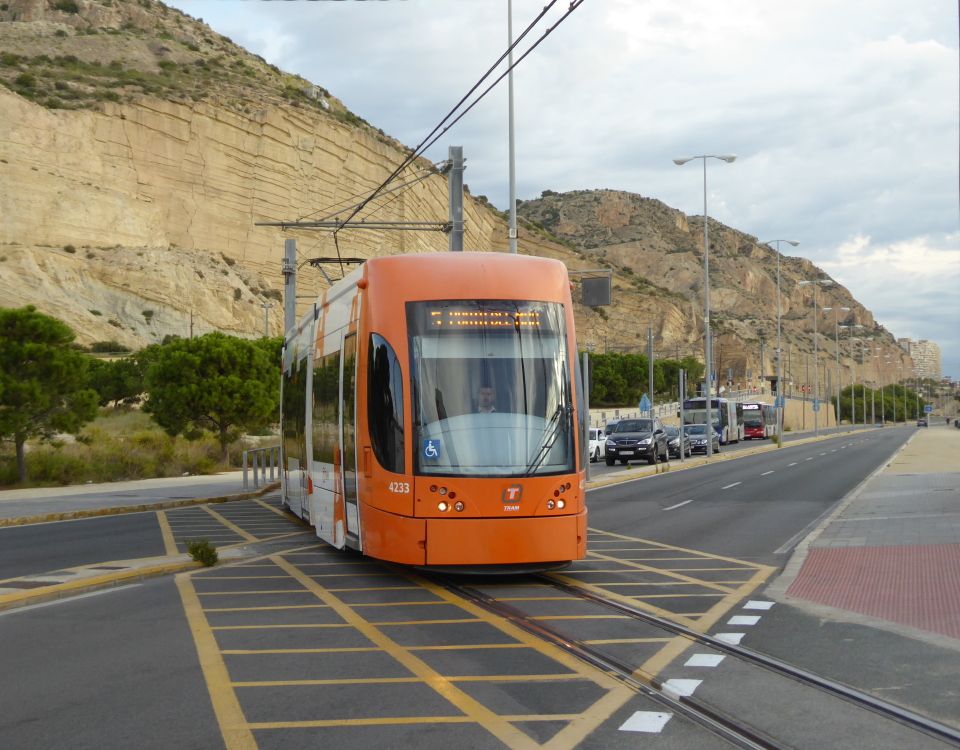 I have added some recent photos from Alicante, principally documenting the abandoned seafront line, but other aspects are also touched on.

Entire series here.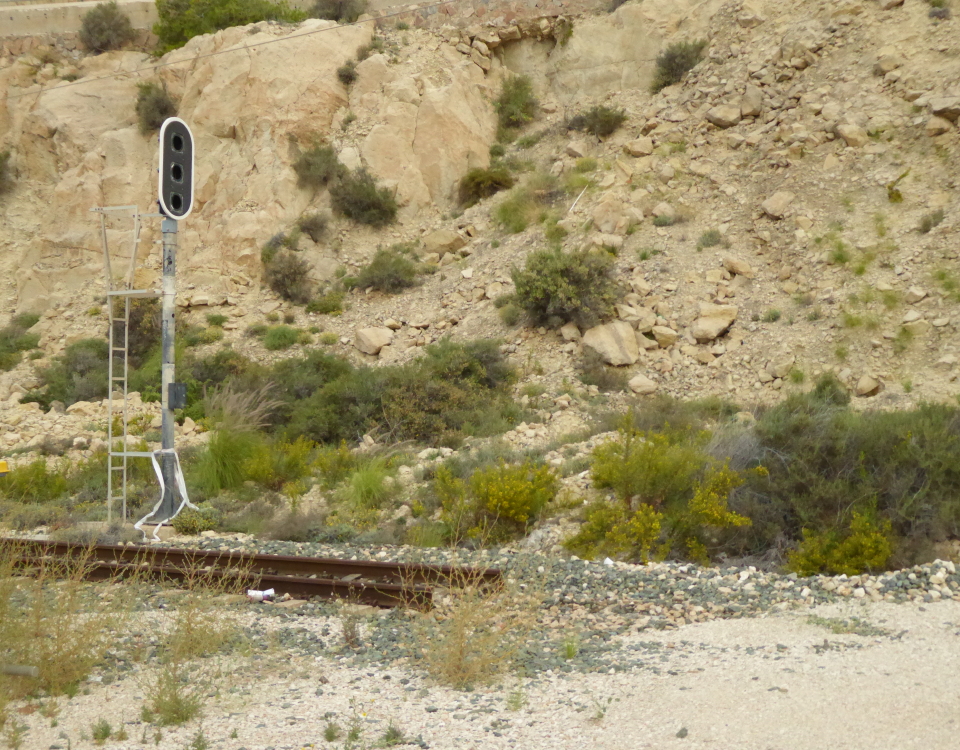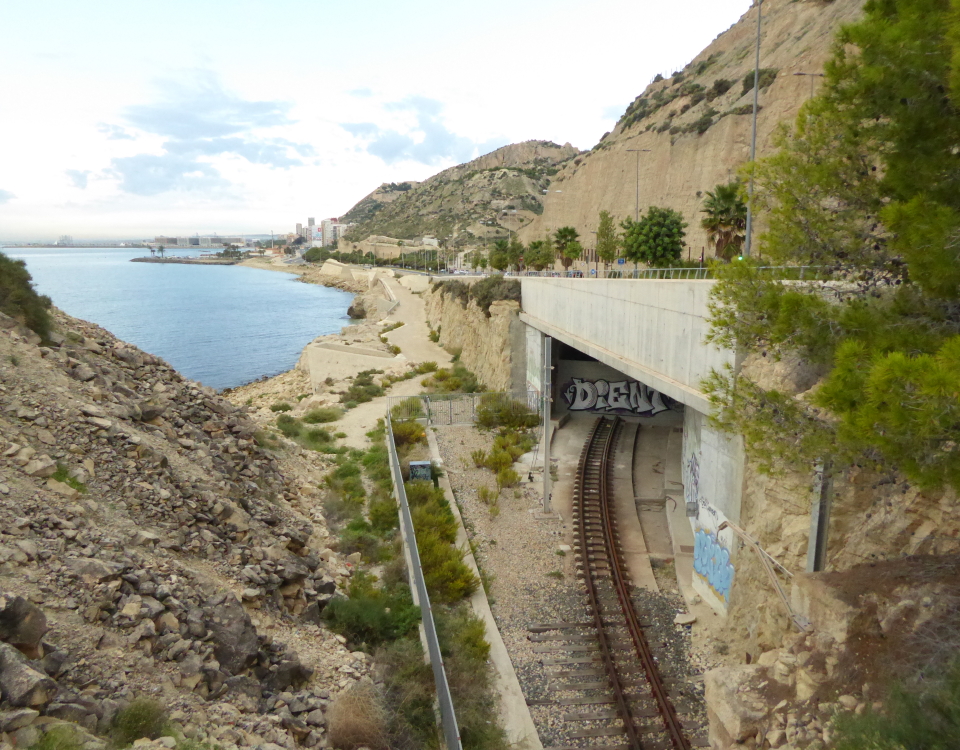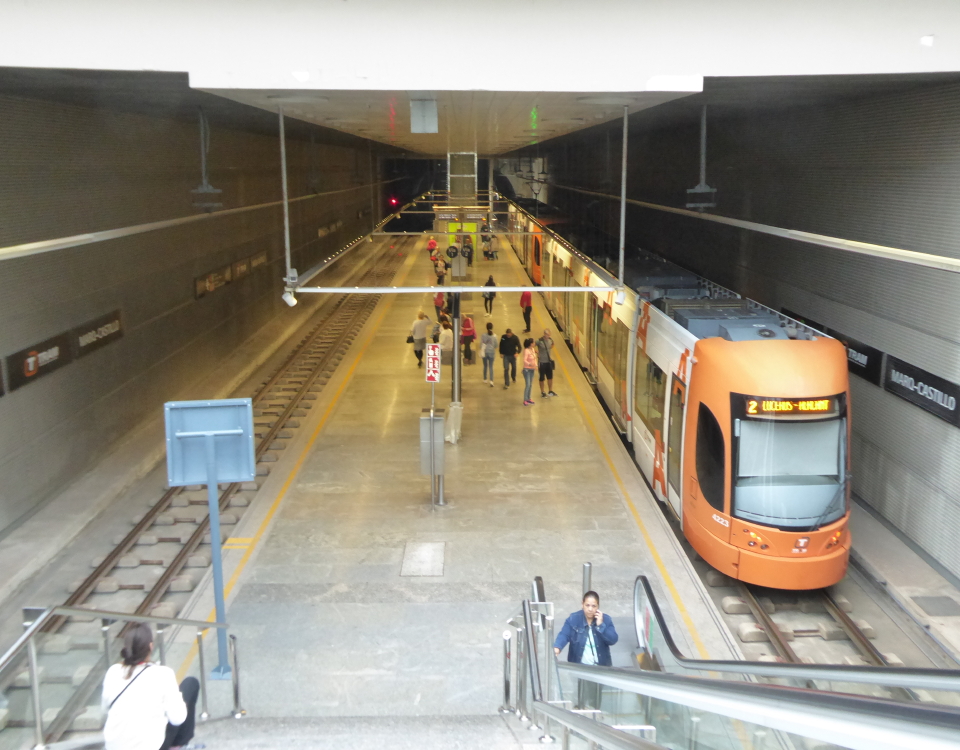 ---
08.11.2019: First Flexity tram to be delivered on 15th November
The first of VBZ's new Flexity trams will be delivered to Zürich on 15th November. The new tram is not, however, expected to appear in service until mid 2020. It is anticipated that there will be 10 of these ... (more)
---
08.11.2019: More on new Uetliberg trains
Further to yesterday's news item on the new uetliberg trains, an article in 20 Minuten reveals the order for the five Be 570 sets is worth 46.7 million CHF. According to the article, the date of delivery has not ... (more)
---
07.11.2019: VBZ reacts to rolling stock shortage
The shortage of rolling stock is putting increased strain on VBZ. The delivery of the new Flexity units is delayed, while an increasing number of trams is unavailable due to accident damage. At the same time VBZ is having ... (more)
---
07.11.2019: Stadler awarded order for new trains for Uetliberg line
Stadler has won an order to supply five new trains to SZU for use on the Uetlibergbahn (S10). The trains will be classified as Be 570 and be operationally compatible to the earlier Be 510 but be built for ... (more)
---
18.10.2019: Farewell to old trains in Neuchâtel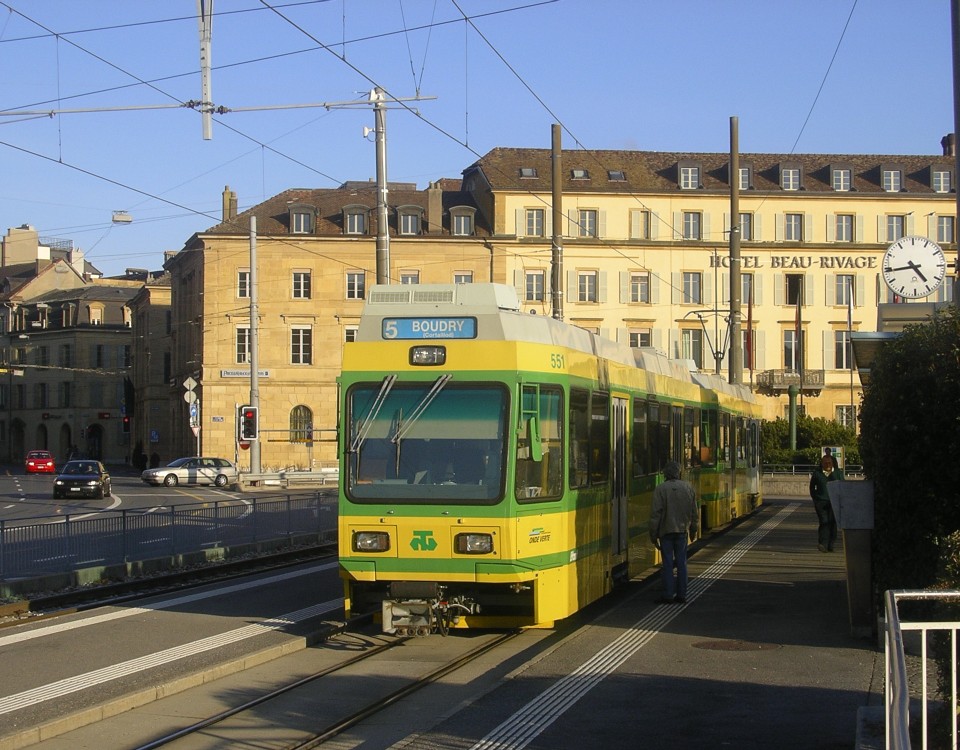 A farewell event for the old trains on Neuchâtel Littorail (similar to the Forchbahn 2000 units) is planned for 27th October. The actual entry into service of the ex-Trogenerbahn units that are replacing them is not expected until mid-November.
---
09.10.2019: Swisstrolleyplus in Arnhem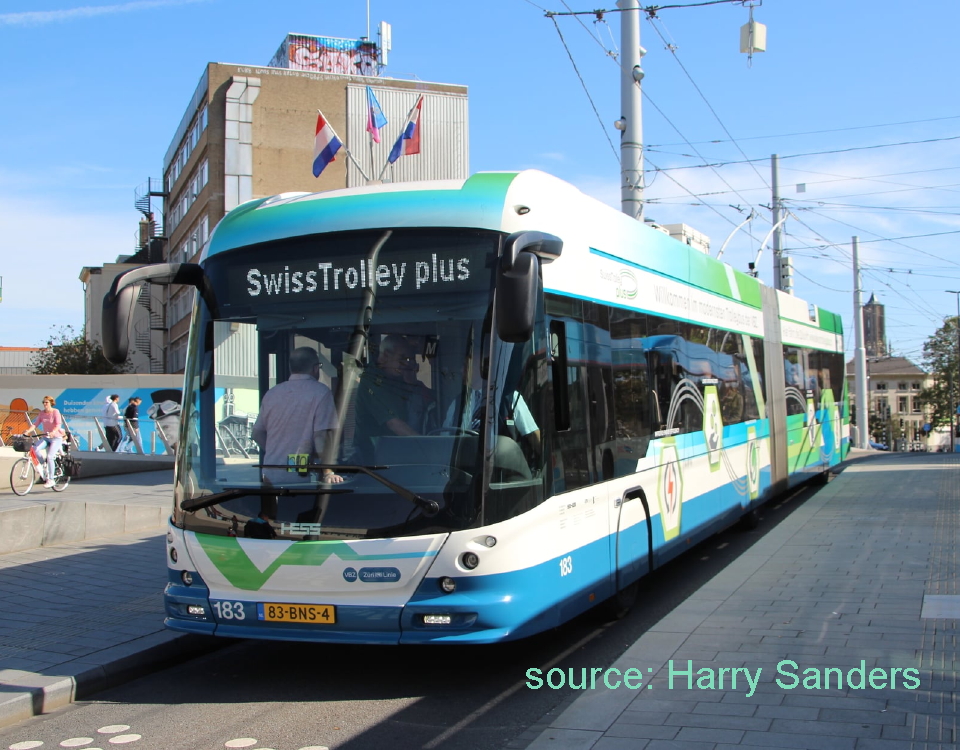 Swisstrolleyplus 183 has recently visited Arnhem in the Netherlands. I am grateful to Harry Sanders for allowing me to share these pictures (taken on 14th September).
---
09.10.2019: Photo update, various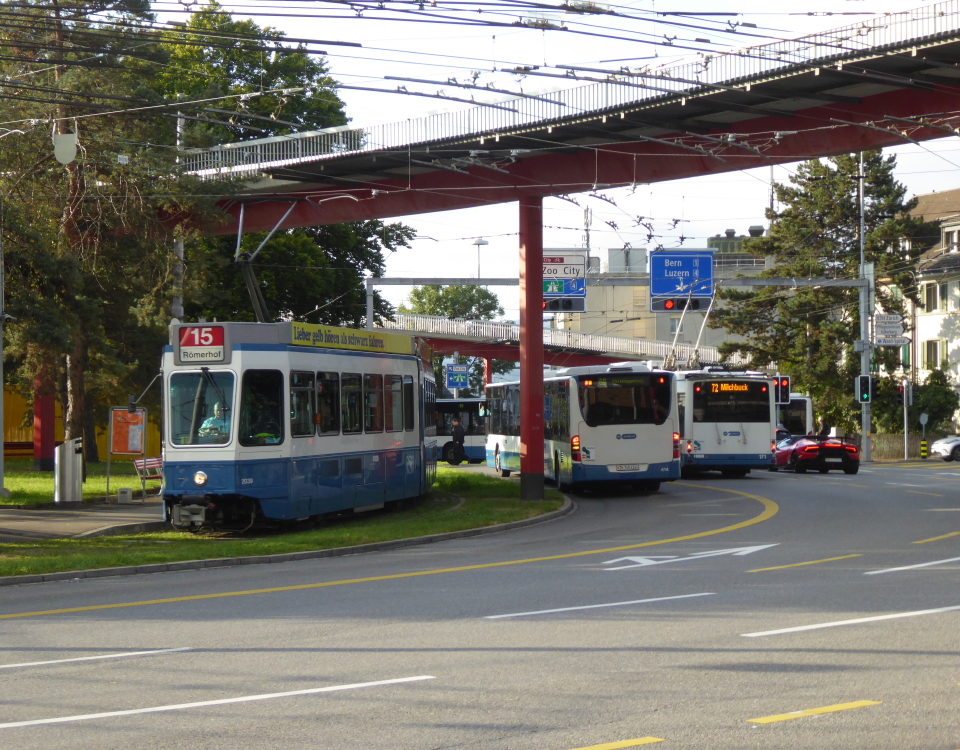 Recent photos uploaded including trams and trolleybuses at Bucheggplatz, SBB, Spain and Hungary. Full gallery here.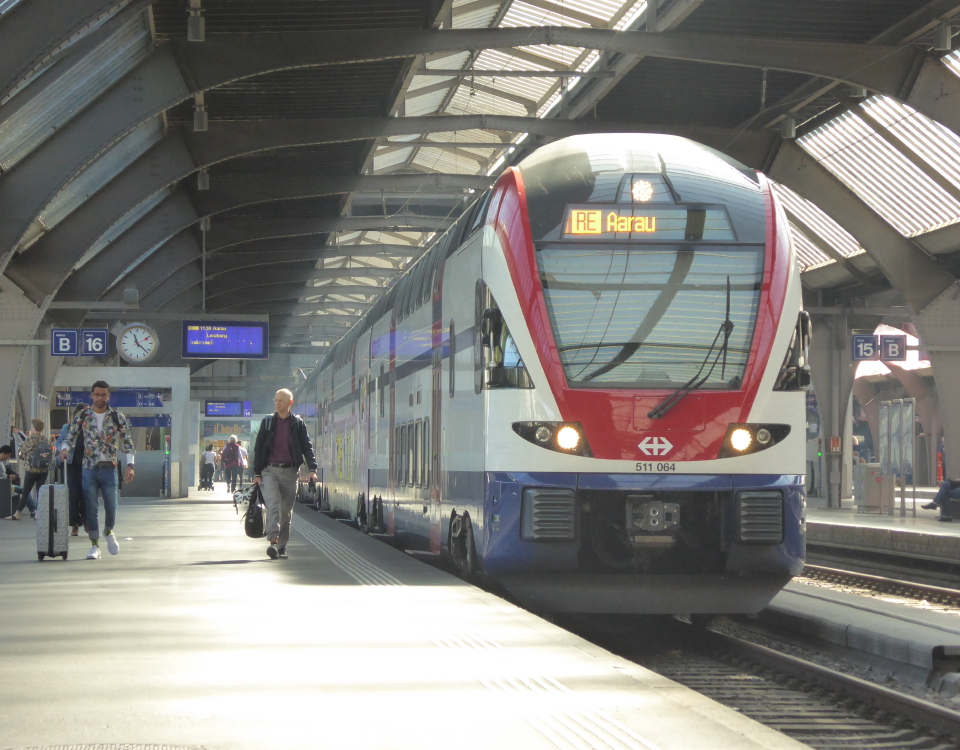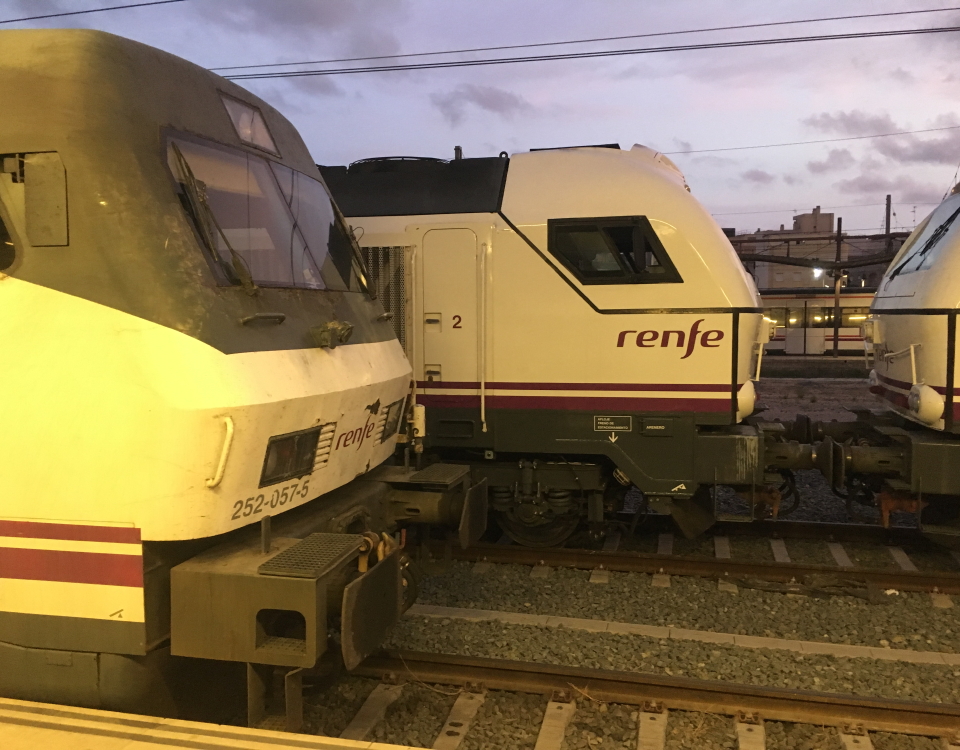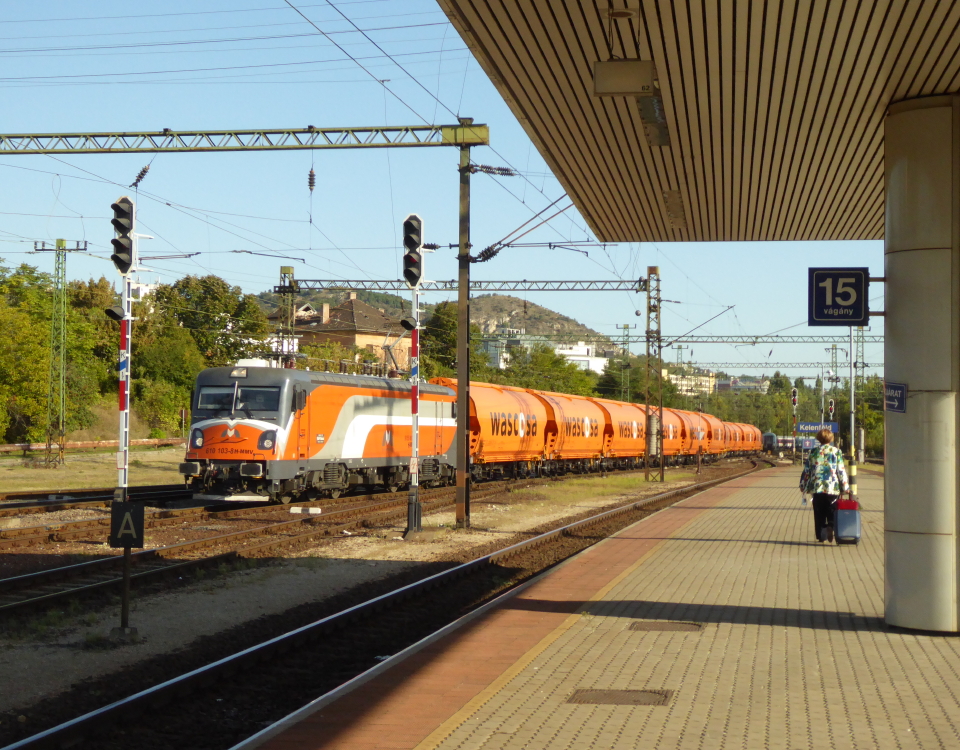 ---
01.09.2019: Photo update: Limmattalbahn opening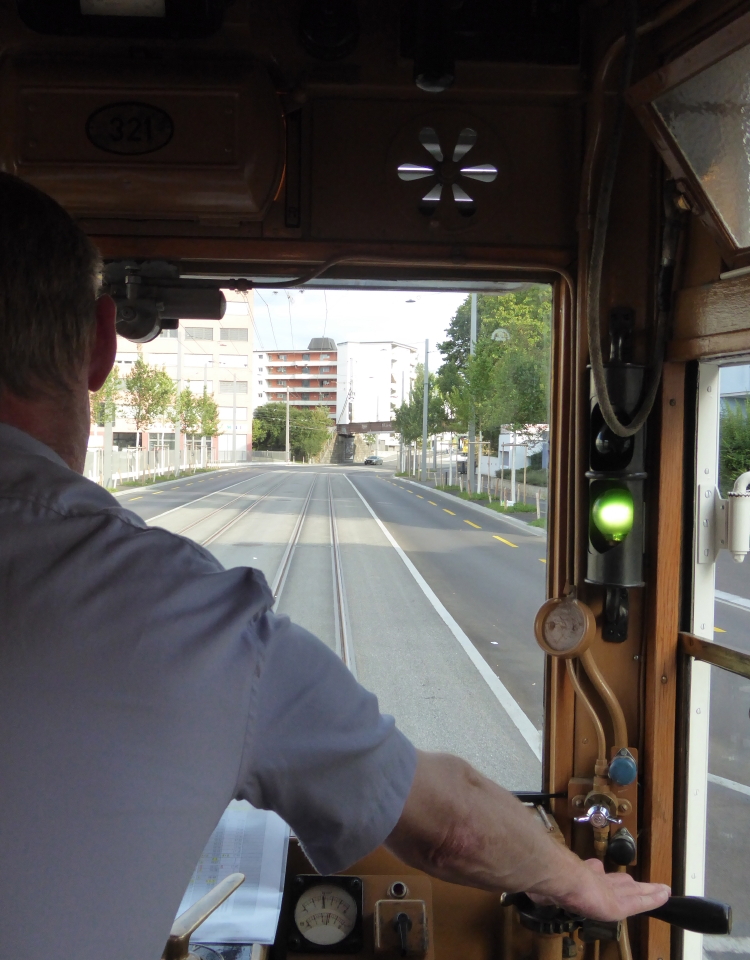 Photos from today's events surrounding the opening of Limmattalbahn (here).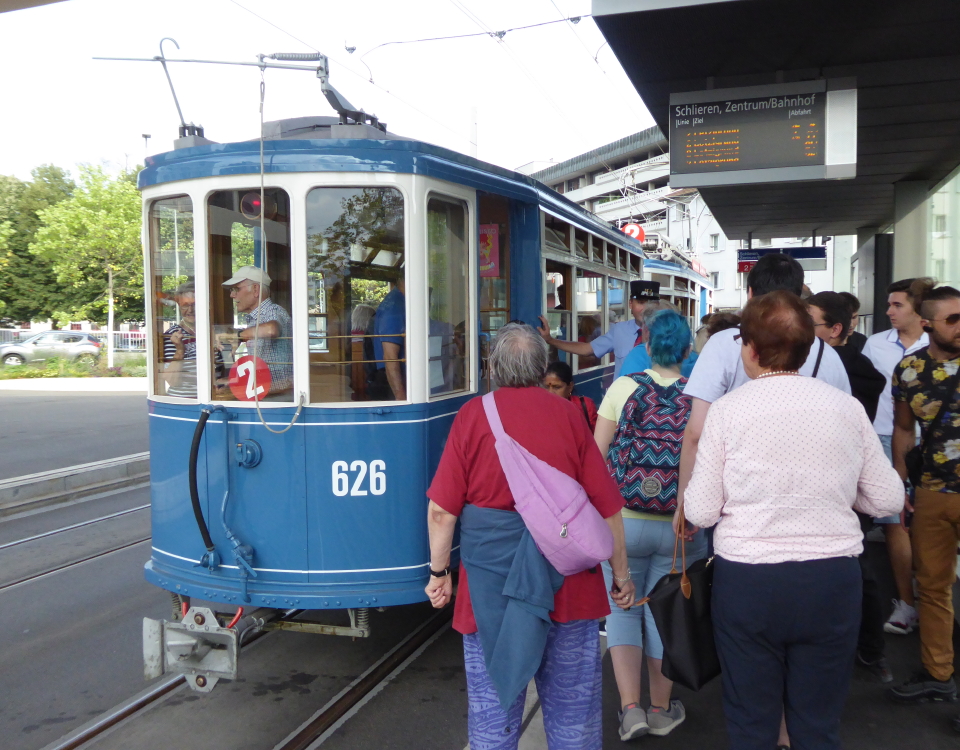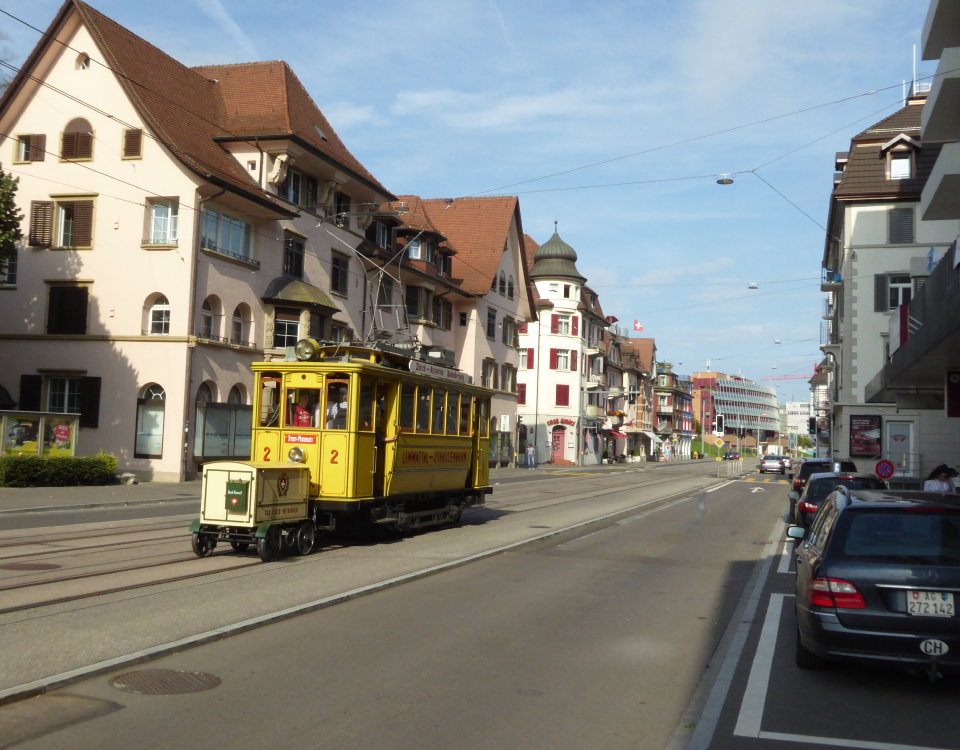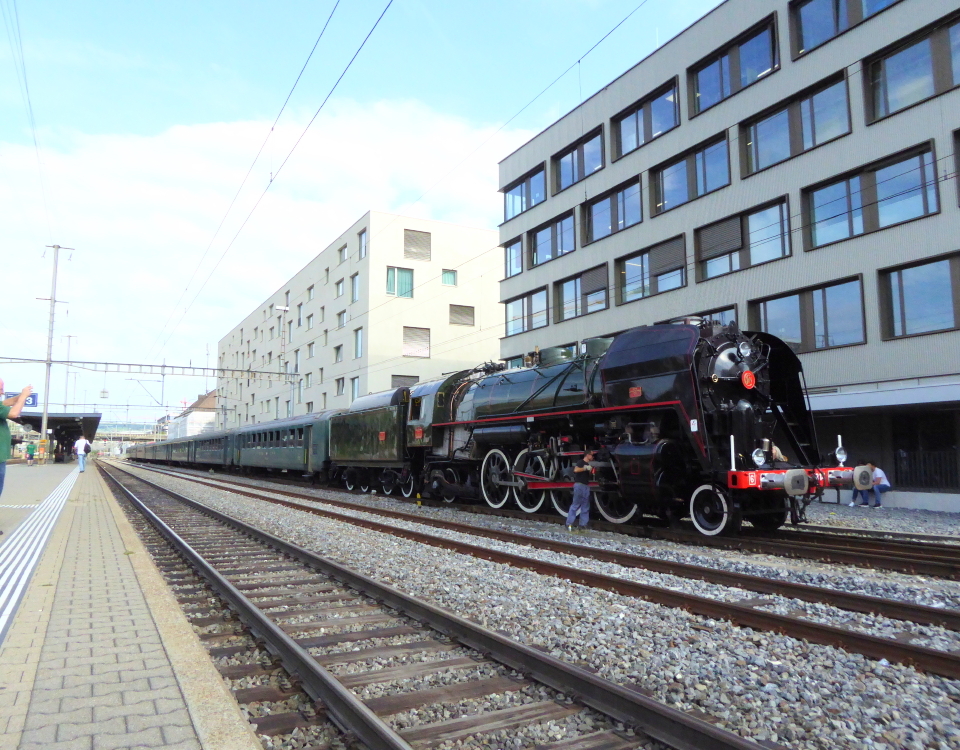 ---
21.08.2019: Limmattalbahn opening, and second phase launched
Festivities in Schlieren over the weekend of 31st Auguist / 1st September will mark the opening of the first phase of Limmattalbahn, with trams offering rides on the new section. Some sources suggest that heritage trams will also be ... (more)
---
15.08.2019: Photo update, Mirage and more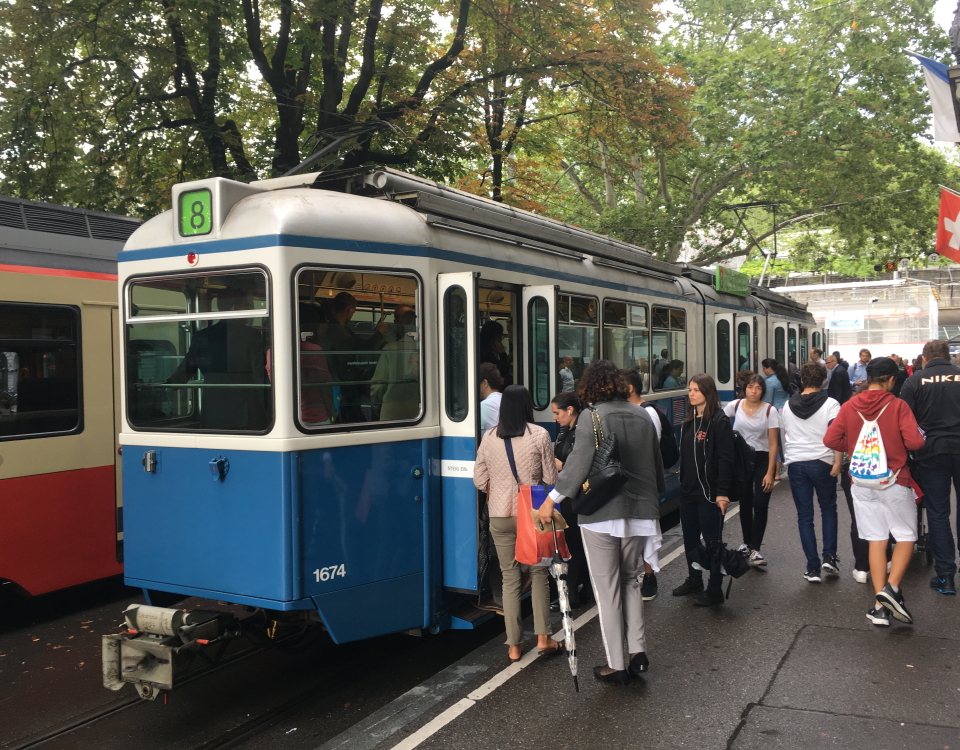 Brief photo update with Mirage 1674 in service, a visit to Hungary and SBB's new double-decker train. Full gallery here.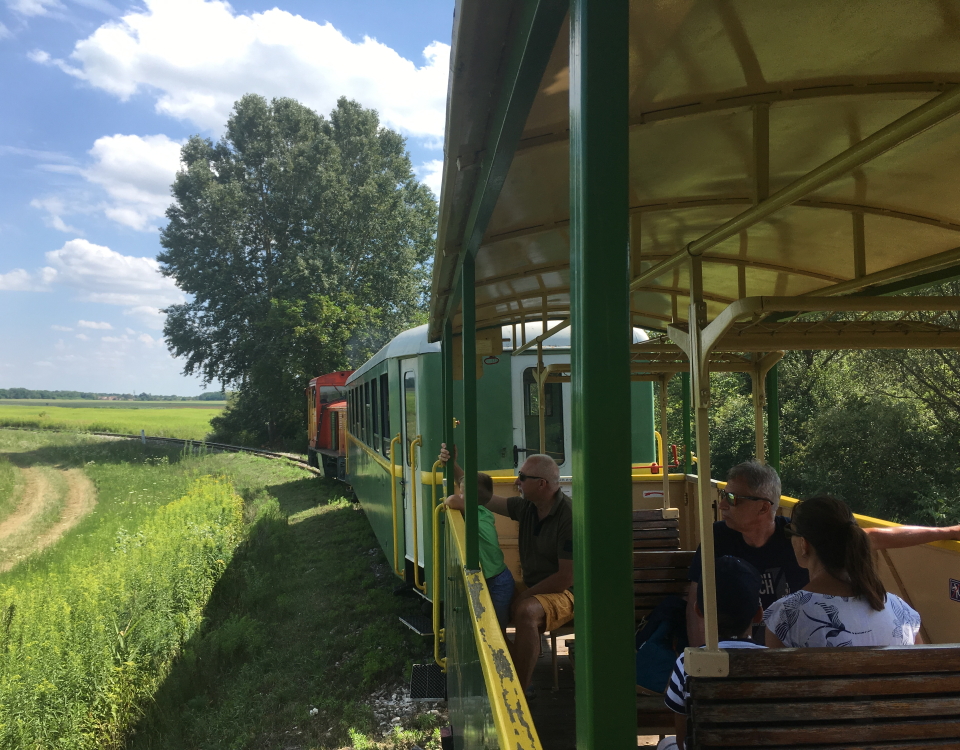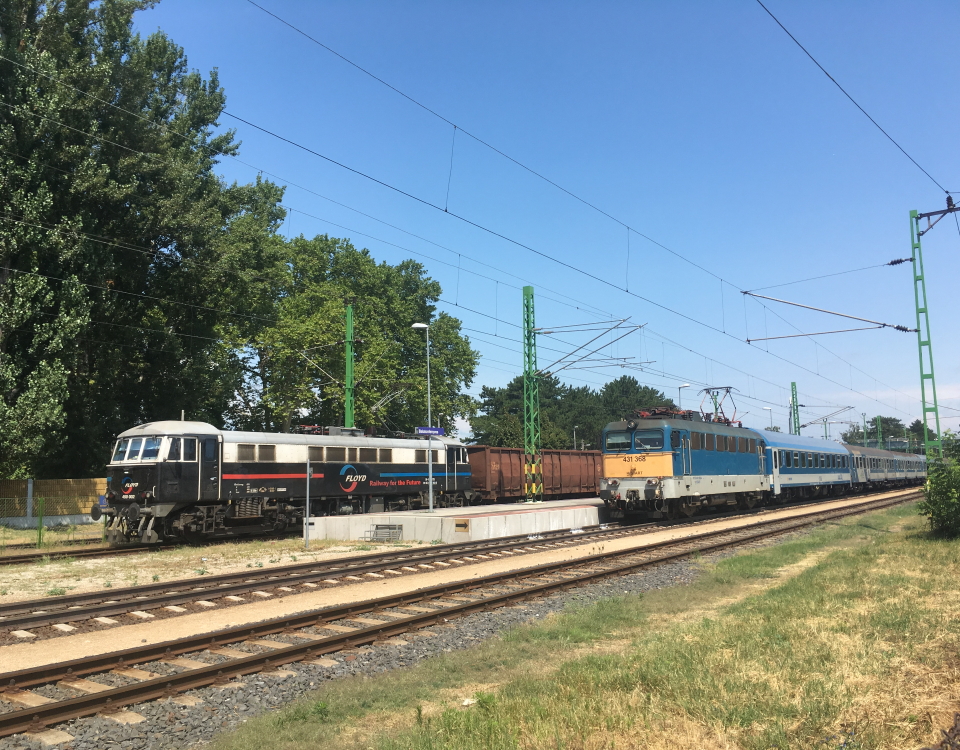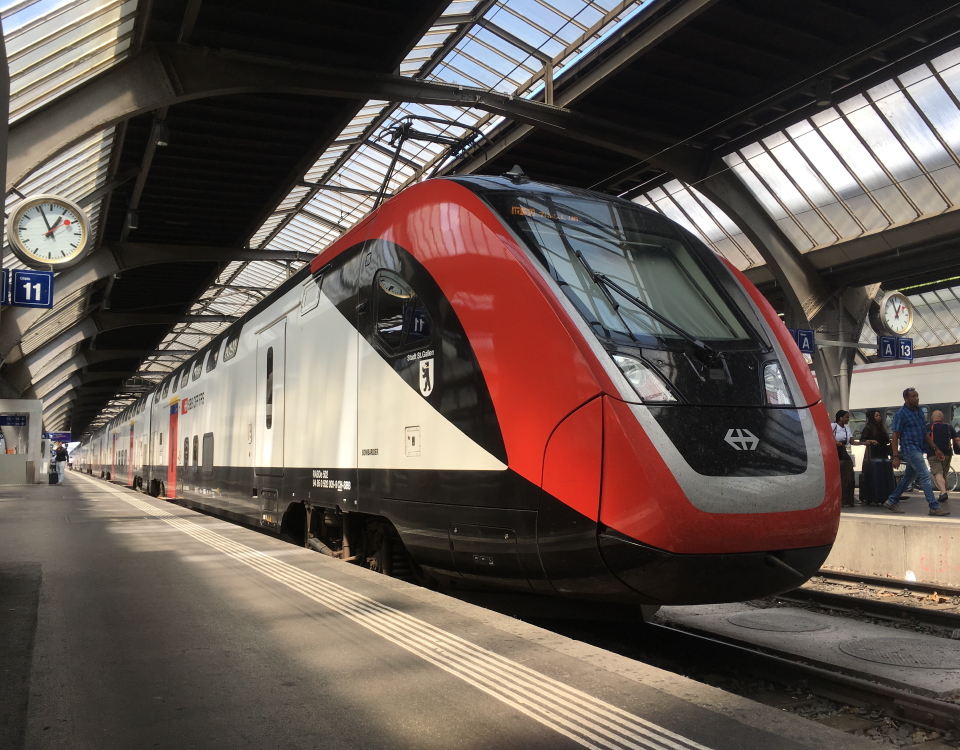 ---
22.07.2019: 90 times to the moon and back
Yesterday, mankind celebrated the 50th anniversary of the first manned moon landing. Here is VBZ's take on the matter.

---
17.07.2019: Limmattalbahn and Farbhof update
According to a corresponent on the SwissRail ioGroup, the loop at Farbhof was closed at end of traffic on 12th July (Friday night), with tram route 2 now turning at Letzigrund while the Farbhof turning loop is removed and ... (more)
---
25.06.2019: Limmattalbahn photos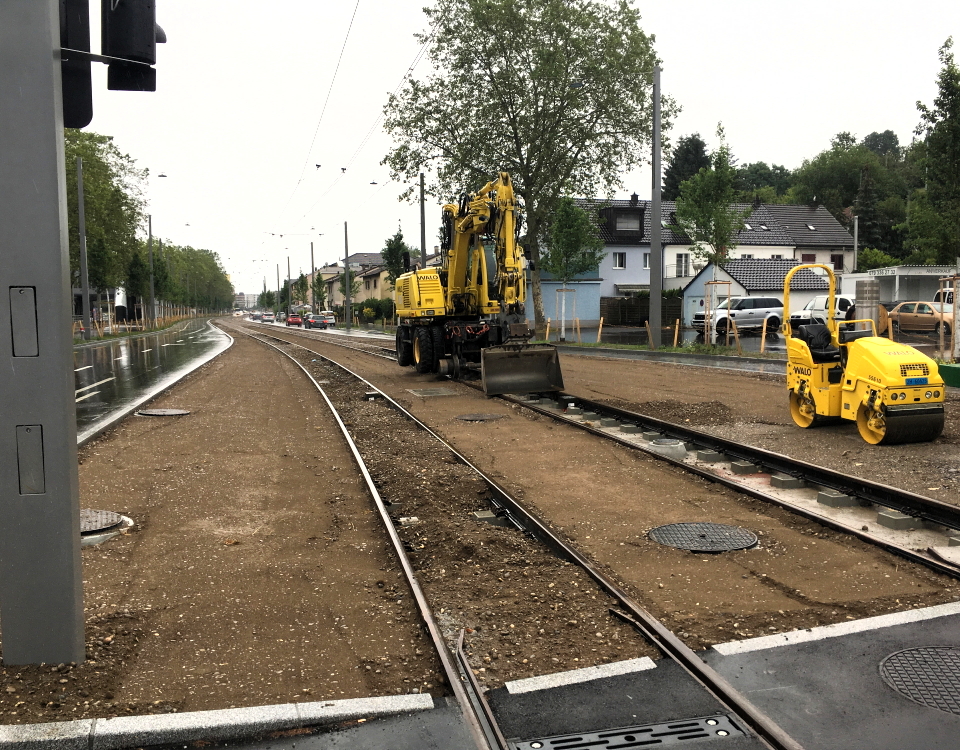 Following up on my recent report on the first phase of Limmattalbahn, here are some pictures of my visit on 9th June (including the soon to vanish turning loop at Farbhof). See pictures here.

---
24.06.2019: New AVA trains
Another one I missed previously: The first of the new Stadler-built trains for the Schöftland to Menziken line of AVA (previously AAR, previously WSB) was delivered in Suhr on 18th January (report in Aargauer Zeitung). This is the first ... (more)
---
24.06.2019: Photo update — Brienz Rothorn Bahn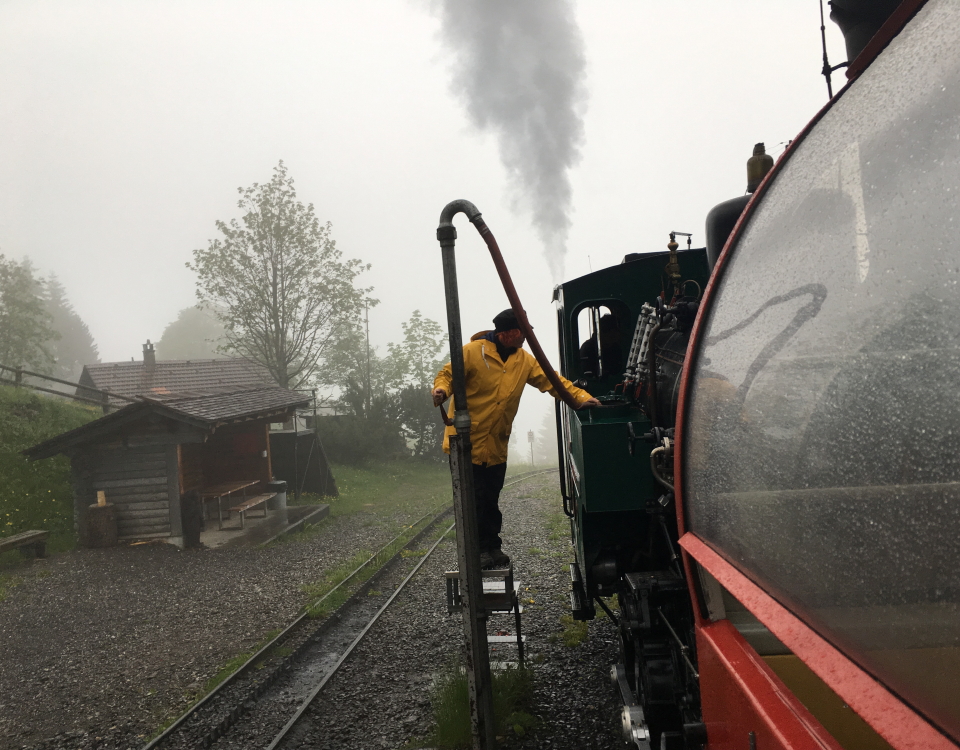 New pictures uploaded of a rainy day on the Brienz Rothorn Bahn as well as heritage coaches seen in Winterthur.

---
19.06.2019: Pyongyang pictures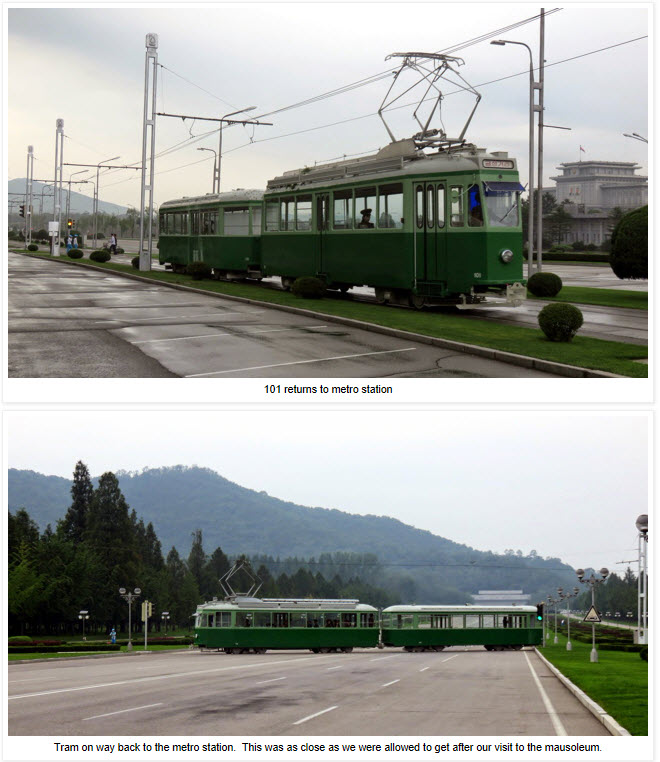 Not quite up to date, but a fascinating internet find. Ex-Zürich Standard Trams in Pyongyang on Richard Lomas' website.

---
18.06.2019: Restore WSB Saloon car
A society has been formed with the goal of salvaging and restoring to working order WSB's saloon car 115. This bogie car was originally built in 1901, underwent several major rebuilds, and was not withdrawn until 1982, after which ... (more)
---
18.06.2019: Geissbock tram back in Zürich
Some catching up one news I missed. This newslog announced the return of the Geissbock tram from Lucerne to the Zürich tram museum. The event has been well covered, so here are some links to some of that coverage: Some ... (more)
---
17.06.2019: Limmattalbahn opening
Infrastructure on the first phase of Limmattalbahn (Farbhof to Schlieren) is approaching completion. The line will commence operation on 2nd September as an extension of route 2. Festivities are planned in Schlieren to accompany this. To permit the line to ... (more)
---
17.06.2019: New funicular at Zürich airport
A new short funicular is to be built just outside Zürich airport. The area on the other side of the Glattalbahn stop and elevated roadway is being redeveloped with an office, hotel and convention area called The Circle. Just ... (more)
---
17.06.2019: SZU on rare track
There will be no SZU trains Zürich HB to Selnau from 13.07.2019 to 01.09.2019 (inclusive) due to track work. During this period, some peak trains will be diverted to Wiedikon, creating an opportunity to ride on this otherwise ... (more)
---
07.06.2019: Basel St Louis: Services suspended over antisocial behaviour
The cross-border tram extension of Basel's route 3 opened amidst much fanfare in 2017. Following incidents of antisiocial and threatening behaviour on the French segment of the line, with individuals aggressing both passengers and staff, BVB suspended the evening ... (more)
---
04.06.2019: Peckham cantilever truck number 8
Following up on the previous item on this newslog, concerning Peckham cantilever trucks, the same Facebook source has provided a scan of a number 8 truck (from the same catalogue). This is, I believe, the type that was used ... (more)
---
31.05.2019: Facebook find: Peckham cantilever truck
Interesting find on Facebook, from the 1897 (American) Peckham catalogue, showing "Peckham's 'Standard' Cantilever Extension Truck 6C", and claiming that "Peckham trucks cost 75 per cent less to maintain than any other truck". The design shown appears very similar, ... (more)
---
31.05.2019: SBB considers bringing back night trains
This newslog has reported the slow demise of night train services from Switzerland. SBB officially pulled out of the business in 2009 but foreign railway companies continued to serve Switzerland. The train to Spain was lost in 2012, and ... (more)
---
30.05.2019: Trolleybus pics
Some random photos of trolleybuses (and other stuff) I took today on Wehntalerstrasse near Milchbuck. No specific reason.

---
12.04.2019: Ex-Trogenerbahn trams in Neuchatel
According to reports on the SwissRail io group, the sale of Trogenerbahn 31-35 to Neuchatel fell through in early 2017 as Neuchatel was unable to raise the money. But a fresh agreement was reached later that year. The five ... (more)
---
28.03.2019: Geissbock returns to Zürich
After 37 years in the transport museum in Luzern, 32 is returning to Zürich. This 6-wheeled tram, built in 1939, is celebrating its 80th birthday this year. Together with its long scrapped sister car, 31, it was a protototype ... (more)
---
28.03.2019: Cobra trams in trouble again
A routine control late last year revealed fractures in one of the rods fitted under a Cobra tram to guide the wheels into curves (these radially adjusting wheels are an important feature of the Cobra design). Further investigations involving ... (more)
---
21.02.2019: Mirage back in service soon
According to a correspondent on the SwissRail iO Group, Mirage 1674 is expected to return to service from 25th February (that is, coming Monday). Expected timings will be: On route 8 Monday to Friday only 15:29 Salersteig via Stampfenbachplatz-Sihlquai to Hardturm 16:01 ex ... (more)
---
25.01.2019: VBZ web article on history of Tram Affoltern
With the tram line to Affoltern slowly but surely moving towards the spades in the ground stage, VBZ has published on its website a history of previous attempts to build a tram line to Affoltern, as well as looking ... (more)
---
25.01.2019: Internet find, Altdorf tram
Internet find: this rare film footage of the Altdorf tram.
The Altdorf – Flüelen tram operated from 1906 to 1951. More information, pictures and a map can be found on this page of Eingestellte Bahnen.
---
25.01.2019: 2018 news
News items for 2018 have been moved from the newslog.html main page to the 2018.html page.
---